I've got another giveaway for a book I really think you'll like! This time it's for
Never Get a Real Job
by Scott Gerber. And if you are into freelancing or you dream of starting your own business, or you're on the way with another entrepreneurial venture, this is a great book to have.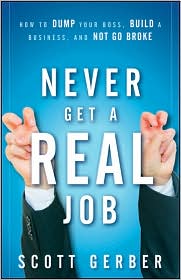 About the author:
Scott Gerber is a serial entrepreneur, internationally syndicated columnist, angel investor and public speaker. In additoin to his website at www.nevergetarealjob.com, he also heads up the Young Entrepreneur Council, a group created to help 20-somethings and other young entrepreneurs bring their business ideas to life.
Check out
this page--
the collection of inspiring young business people is proof that you can do anything. And as Scott says, you don't ever have to get a "real" job to make it happen!
Wanna enter?
Leave a comment here with your email address, full name and location. Winners will be chosen at random. Contest ends Friday, February 4, 2011.
(In giveaway news, the business card/resume critique winner was chosen--details coming soon!)